Here are the groups we expect to form for our upcoming season:
Adrenaline
Available via audition only, this high-school-aged group includes our most experienced performers, capable of delivering a full Broadway singing and dancing number in show choir mode as well as choral singing with multiple harmonies. Now in our fifth year of performing, Adrenaline will be adding more a cappella numbers, men-only and women-only selections, mixed groups and so much more. Adrenaline performers aren't afraid to grab the microphone and deliver a solo, duet or trio – and they get plenty of chances to do so!
This group also makes the most of public performance opportunities, appearing at venues all over Woodbury and the surrounding area. Finally, our Adrenaline performers earn the right to step into the recording studio and lay down tracks with professional sound engineers and designers. If you want to push your performance level to its highest ever, this is the group for you!

Rehearsals: Mondays from 5:45-7:15pm and Thursdays from 6:00-7:15pm

Impact
This exciting group of boy and girl performers in grades 6-9 will rock audiences with their performance skills! Available via audition only, this mixed group experience combines show choir performance, choral singing, a cappella vocals and so much more. Impact performers build the skills needed to eventually join Adrenaline and be among our top performers. If you're ready to get on stage and show what you can do, Impact is the group for you!

Rehearsals: Mondays from 4:30-5:30pm and Thursdays from 4:30-5:45pm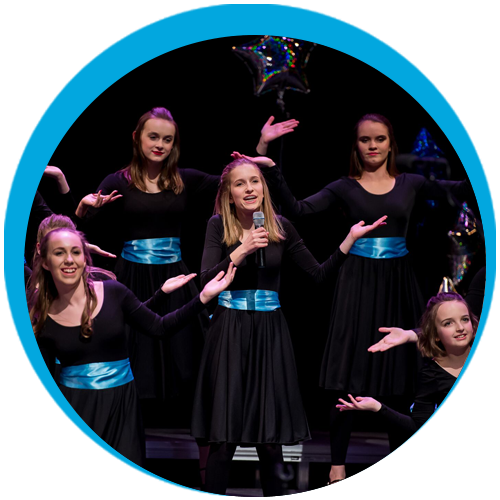 Momentum
This group of young ladies in grades 6-9 are born to perform, delivering the performance opportunities needed for young women from those with real singing experience to those just learning to take the stage. The Momentum ladies specialize in delivering polished vocals, along with movement and just the right amount of attitude! Momentum performers make the most of their opportunities to sing solos, duets and trios in front of large audiences, building their skills and blossoming into real stage performers. Finally, our Momentum performers often take the stage with Adrenaline to perform our biggest production numbers with a big sound that fills any venue. Momentum is a blast!

Rehearsals: Thursdays from 4:30-5:45pm

Crescendos
The Crescendos group is comprised of performers in grades 4-6. Many of these performers have some singing experience, but are looking to stretch themselves to learn more vocal performance skills and gain even greater performance opportunities. The Crescendos members regularly receive solo, duet and small group singing opportunities, building their confidence in front of real audiences. Choreography and movement are also a key part of the Crescendos experience. For our full stage performances, Crescendos members take the stage in large production numbers with our older performers. Crescendos have an incredible amount of fun!
Rehearsals: Tuesdays from 5:45-6:45pm

Sparks
Our youngest group of performers covers elementary school grades 1-3. Sparks performers are often joining their first full singing and performance group, so our instructors provide the attention and support they need to learn to take the stage with confidence and poise. As their skills progress, Sparks performers take on solo and duet work, sing with harmonies and take on real choreography. Sparks performers sometimes join the Crescendos group for an even bigger sound. The Sparks are probably our most photographed group, just because they are so adorable!

Rehearsals: Tuesdays from 4:30-5:30pm