CLICK HERE TO AUDITIONCLICK HERE TO AUDITION
Stars In Studio
Announcing our New Aspire &
Born Into Royalty Adult Offering: STARS In Studio!
This exciting new experience is open to all performers 18 and older via audition
(Auditions for this experience closed on January 23, 2021. Please stay tuned for more performing experiences for adults later this Spring!)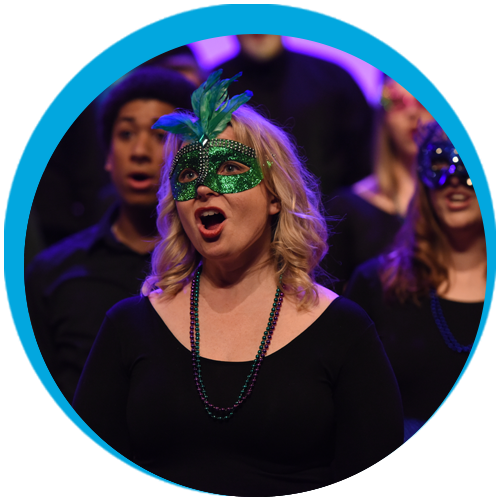 STARS In Studio performers will continue in the STARS On Broadway tradition, but will bring this exciting show to life in an eight-week commercial-quality recording studio experience.
If you love singing with other talented performers, and have always wanted to step into the recording studio with both old and new friends, this is the experience for you!
The cast for the STARS In Studio experience will record 10 total songs from the fabulous musical "Rock of Ages." This star-studded show features songs from many of your favorite 1980's rock bands -- songs like "Don't Stop Believin'," "Hit Me With Your Best Shot," "We Built This City," and so many more.
Each cast member will perform in a minimum of five songs overall and will be a featured vocalist in at least one song.
STARS In Studio is a "vocals only" experience – no choreography will be taught and no dancing will be required. (However, for those who love to dance, we may feature a small group of dancers for promotional purposes.)
Please enroll to audition by clicking on the button above. You will be sent the full audition details about what to prepare.

STARS In Studio in-person audition dates are:
· Wednesday, January 20th – 6:30 – 10:00pm
· Saturday, January 23rd – 12:00 – 6:00pm
Auditions may also be submitted via video. Please enroll for an audition and you will be sent those details.

Those cast in the experience will pay a $200 one-time participation fee.
Rehearsals and Recording Sessions:
Rehearsals and recording sessions will take place from February 1st to late March 2021.
Sessions each week will be scheduled by song / small group from among these days and times. Performers will join the sessions for songs in which they are cast (so not all performers will be present at all times):
● Mondays & Wednesdays: 6:30 - 8:00pm & 8:30 - 10:00pm
● Saturdays: 12:00 - 2:45pm & 3:15 - 6:00pm
All recordings created will be released publicly via digital distribution by Aspire Music Academy and Born Into Royalty.
(Our regular Aspire Encore show choir experience will resume in the future, with a separate enrollment.)
Commitment to Health and Safety
Your safety is our number one concern and we will do everything that we possibly can to create a safe and healthy environment for all of our participants. Our health and safety procedures are well-established and have been used with success for many months.
All group rehearsals will be small groups singing masked, with proper distances and breaks.
All recording studio sessions will be with performers in separate isolation rooms, connected to our master recording studio control booth.
For those participating in person, we will always:
● Follow the most current safety guidelines from the CDC, Local & State Governments
● Maintain recommended distancing throughout the available spaces at all times
● Use masks where recommended (we will have extra masks as needed)
● Take a "touchless" temperature check of all participants upon entry
● Provide hand sanitizer and ask that everyone clean and sanitize their hands as they enter the building & move from one space to another